Description
Shipping & Handling
Frequently Asked Questions
Matte Green High School Cap & Tassel
• Sleek, non see-through dull finish
• Comfortable band allows one size fits all sizing
• Strong, durable reinforcement throughout
• Sturdy mortarboard measures 9.4" x 9.4"
• Extra room under the top button allows easier and quicker access to the tassel
• High quality Green Graduation Tassel
• Free moving current year charm (signet)
• Tassel length measures 9" without the hang loop
• A 6" hang loop allows easy fitting to the cap
• Each tassel comes with a current year date charm signet
• Strong reinforcement metal clasp holder


Order Processing Timeframe
All Orders for "Stock Products" will ship out within 7-10 Business Days. We offer Quick Processing (5 business days) and Rush Processing (1 business day) options which expedite your order handling and overall delivery time. Quick and Rush order processing options may be selected during the checkout process. Additional fees may apply.
If your Order contains a "Special Order Product" or a "Custom Product", the entirety of your order processing time will be approximately 3 – 4 weeks. Expedited processing options are not available for "Special Order Products" or "Custom Products". Prior to checking out, please review your order and be aware that by placing this order you understand and accept the extended 3 – 4 week processing time.
Expedited Order Processing Options
STANDARD – Ships within 7 - 10 Business Days (No Additional Charge)
QUICK – Ships within 5 Business Days (Additional Fees May Apply)
RUSH – Ships within 24 Hours (Additional Fees May Apply)
Out of Stock & Delayed Orders
If any item(s) become out of stock after an order is placed, one of our customer service representatives will contact you via telephone or email and inform of available options in an effort to remedy any issues. We will ask whether you would like to proceed with your order or make changes to your order. Product substitutions are available upon request. Out of stock items will typically be placed on Back Order and extended processing times may apply.
Important Information
Orders with Expedited Processing placed after 3:00 PM EST will not beginning processing until the next business day. UPS deliveries are made on Standard Business Days Only (Monday - Friday, except holidays & weather permitting).
Domestic Shipping Rates
To obtain a shipping rates please add your products to checkout to see shipping rates to your destination.
What Is The Material Of Your Gowns?
Our gowns are all made of 100% polyester. Purely made polyester, like our products, is extremely strong, extremely durable and has excellent properties such as being hydrophobic in nature that leads to quick-drying and stain resistance.
What Type Of Gowns Do You Offer?
We have variety of gowns to offer. Our in-stock gowns standard are shiny, matte, and environmental (recycled matte black fabric). We can also provide more prestigious gowns such as for Bachelor, Master, and Doctorate graduates, which we have several variations of each level.
How Do I Know What Color To Choose?
Please contact your graduation coordinator at your educational institution, as we currently do not have access to school colors.
What If My School Orders With A Different Company?
We welcome anyone to order with us! Although, we cannot give assurance or be held responsible for our gowns' colors matching another company's gowns. We provide unique shades of gowns are not the same with another vendor's products.
Are You Gowns See-Through?
No. But deep dark shades may slightly be seen through the shiny white gown.
VIEW SIZE AND COLOUR CHARTS
Find the right size for your gown. See the instructions below.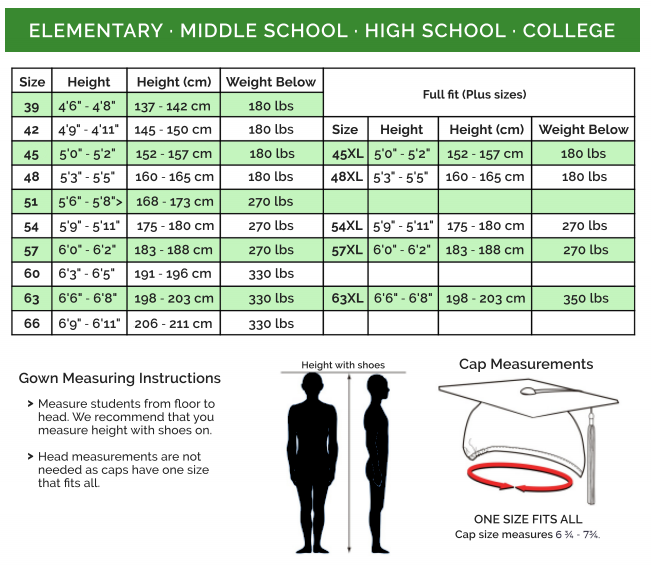 Choose from an array of colours and fabric that we offer.