Description
Shipping & Handling
Frequently Asked Questions
Classic Doctoral Graduation Gown & Hood Package
Premium matte dull finished fabric in black for the Gown (100% polyester)
Lightweight tailored construction
Hidden zipper closure with hook eye clasp
Includes choice of 4, 6 or 8 sided doctoral tam
Traditional open sleeves
Hood (Purple Velvet, Golden Yellow Lining and Navy Chevron)
Pressed pleated front and back detailing
4 inch wide velvet front and back yoke panels
2 inch wide triple chevron velvet sleeve panels
Includes premium custom made doctoral graduation hood which you can choose your degree or school colors.
Each Deluxe Doctoral Gown & Hood will give you a comfortable prestigious appearance and fit.
PLEASE NOTE THE GOWN IN THIS PACKAGE ONLY COMES IN BLACK, IF YOU NEED A CUSTOM DOCTOR GOWN, CHECK THIS LINK
Order Processing Timeframe
All Orders for "Stock Products" will ship out within 7-10 Business Days. We offer Quick Processing (5 business days) and Rush Processing (1 business day) options which expedite your order handling and overall delivery time. Quick and Rush order processing options may be selected during the checkout process. Additional fees may apply.
If your Order contains a "Special Order Product" or a "Custom Product", the entirety of your order processing time will be approximately 3 – 4 weeks. Expedited processing options are not available for "Special Order Products" or "Custom Products". Prior to checking out, please review your order and be aware that by placing this order you understand and accept the extended 3 – 4 week processing time.
Expedited Order Processing Options
STANDARD – Ships within 7 - 10 Business Days (No Additional Charge)
QUICK – Ships within 5 Business Days (Additional Fees May Apply)
RUSH – Ships within 24 Hours (Additional Fees May Apply)
Out of Stock & Delayed Orders
If any item(s) become out of stock after an order is placed, one of our customer service representatives will contact you via telephone or email and inform of available options in an effort to remedy any issues. We will ask whether you would like to proceed with your order or make changes to your order. Product substitutions are available upon request. Out of stock items will typically be placed on Back Order and extended processing times may apply.
Important Information
Orders with Expedited Processing placed after 3:00 PM EST will not beginning processing until the next business day. UPS deliveries are made on Standard Business Days Only (Monday - Friday, except holidays & weather permitting).
Domestic Shipping Rates
To obtain a shipping rates please add your products to checkout to see shipping rates to your destination.
How Do I Know What Type Of Hood To Choose?
You have to choose a hood based on the level of education you are graduating with. An associate's shield, if required by your school, is a for two-year degree, a bachelor's hood is for a four-year degree, a master's hood is for a six-year degree, and a doctorate hood if for PhD's. We also offer both deluxe and premium variants of every type of hood except associates shield. Premium comes with a matte finish on the shell of hood while deluxe is a dull satin.
What Is The Sheel,Chevron, Lining, And Velvet On A Hood And What Does It Represent?
These are academic hood colors and represents important function based on your education experience. The shell fabric, velvet, lining, and chevron are mainly the four sections of a regalia hood colors. That velvet color stands for your specific degree or field of study. Like for example, if you studied business, you would have Drab as your velvet color. The satin lining and chevron serves as your university or college school colors. The main color and material of hood is the shell, which is commonly a black polyester. The fabric shell color matches the fabric color of the graduation gown, which is usually black. However, sometimes it is another color depending on the degree-granting institution.
What Colors Do I Choose? (What Do You Mean By Primary And Secondary School Colors?)
PThe satin lining and chevron corresponds to your university or college school colors. The larger and thicker lining shows your primary school color and the chevron in the center area is the secondary school color. In choosing colors, always based on your highest level of education or current school you are attending.
What Is The Difference Between BA, MA, And PHD Hoods?
We welcome anyone to order with us! Although, we cannot give assurance or be held responsible for our gowns' colors matching another company's gowns. We provide unique shades of gowns are not the same with another vendor's products.
What Is The Difference Fabric Types On The Hoods?
The shell has a dull satin finish and is made up of 100% polyester. The lining and chevron has a shiny satin finish and is also made up of 100% polyester. The velvet is made up of a poly-plush velveteen material.
What Is An Associate's Shield?
It is a type of hood that lays flat on the back and symbolizes that the student has earned an associate's degree. The flat design is for the hood to be easily positioned and prevented from age old problem of improper draping of the hood.
VIEW SIZE AND COLOUR CHARTS
Find the right size for your gown. See the instructions below.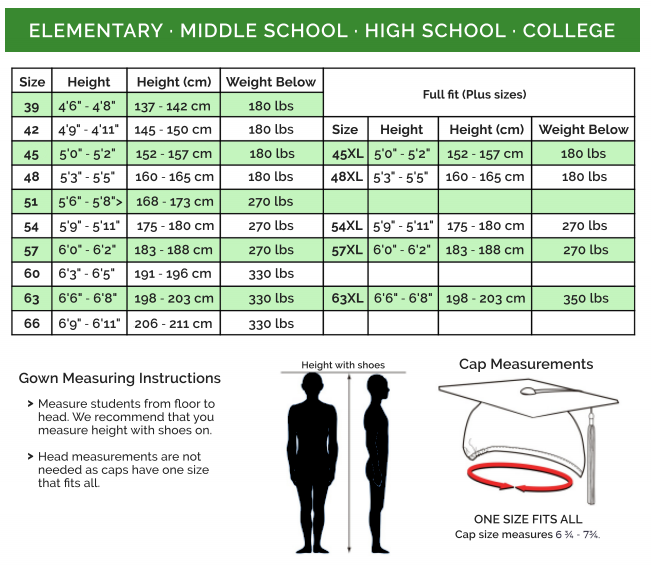 Choose from an array of colours and fabric that we offer.